Partnership-Development-Mission-in-Indonesia
Two QS-ranked Indonesian universities distinguish TAU as first HEI partner in the Philippines
Progressively realizing its goal to widen global engagement and establish international visibility, the Tarlac Agricultural University (TAU) steered an international partnership development mission in Indonesia to seal the Memorandum of Understanding and Memorandum of Agreement with the Brawijaya University (Universitas Brawijaya/ BU) in Malang and Airlangga University (Universitas Airlangga/ AU) in Surabaya, both renowned HEIs in the said country.
BU, a state university in Malang City, East Java, is one of the leading universities in Indonesia with more than 60,000 students across twelve faculties (colleges). It has been included in the 2016 QS University World (710+) and Asia (30-350) Ranking. On the other hand, AU is the second-oldest university in Indonesia with 15 faculties and more than 35,000 students. Consistently ranked highly in major world university rankings, AU has long been considered as one of the "Big 5" universities in Indonesia. This year, AU ranked 191st in the QS Asian University Ranking and 701+ in the University World Ranking. The same QS Ranking has put into record AU as the best university in "Citations per Paper" category in 2014.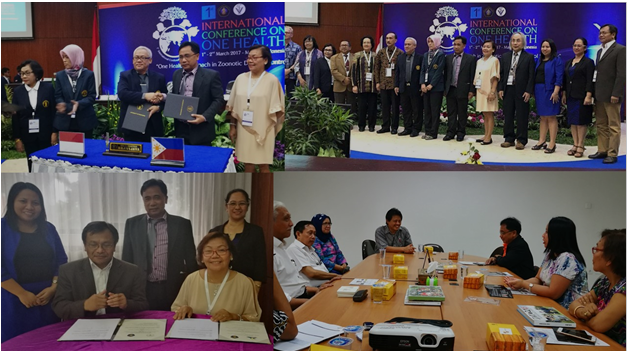 Dr. Ir Mohammad Bisri, Rector (University President) of the Brawijaya University and Dr. Max P. Guillermo, TAU President, entered into a partnership agreement on March 1, 2017 underpinning the intent of both universities to develop cooperation and exchange in all areas of mutual academic interest which includes development of joint venture projects between BU and TAU, organization of joint academic and scientific activities, such as courses, seminars, symposia or lectures, staff and student exchange as well as the exchange of materials and publications of common interest.
The TAU officials (University President, CVM Dean and the Director for External Linkages and International Affairs) immediately engaged into a planning meeting with BU's International Office headed by its director Dr. Ifar Subagiyo for the elaboration of the responsibilities of each institution for the identified initial activities, proposed budget, scholarship and sources of financing for the activities and other items deemed necessary for the efficient management of the joint ventures.
Moreover, TAU's College of Veterinary Medicine and BU's Faculty of Veterinary Medicine, duly represented by their deans, Dr. Ma. Asuncion G. Beltran and Dr. Aulanni'am, respectively, entered into a partnership agreement for academic collaboration and research partnership. They both agreed to start executing the partnership within the year and identified student skills enhancement, staff training or scholarship and joint research as initial activities.
Meanwhile, Airlangga University, represented by Dr. Pudji Srianto, Dean of AU Faculty of Veterinary Medicine, also sealed linkage with TAU. The scope of cooperation includes exchange of scientific and instructional information; exchange of respective staff for research, teaching and collaborative activities; exchange of respective staff to participate in conferences, symposium, workshops and seminars; exchange of undergraduate and/or graduate students for specific periods of study through an organized study abroad agreement; establishment of articulation pathway and establishment of joint research projects on subjects of mutual interest.
The MOA/MOU signing ceremony has been one of the highlights of the 1st International Conference on One Health held at the Brawijaya University wherein Dr. Beltran as the initiator of this partnership with Indonesian universities also served as a lecturer/ speaker on "One World, One Health and the New Veterinarian."
(TAU Committee on Publication & Public Affairs/ Office of External Linkages & International Affairs)