To jumpstart youth-led startups
 Indonesian univ, TAU kick off int'l summer class
Texts by Mr. Jerome L. Duque (External Linkages and International Affairs)
Screenshots by Mr. Abner P. Mañebog Jr. (External Linkages and International Affairs)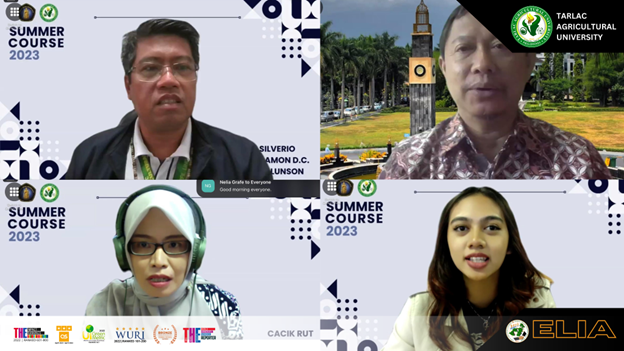 Universitas Brawijaya's (UB) Faculty of Administrative Science (FAS) has entered into another joint venture with Tarlac Agricultural University (TAU), this time with the College of Business and Management (CBM). Titled Summer Course 2023 - Startup 101: From Ideation to Fundraising and Supporting Policies, said training sessions will run from 15 to 18 May.
 Converging business-savvy students from 18 countries, the summer class is divided into nine sessions. Topics range from marketing and branding to seed fund management.
TAU's delegation is headed by CBM Dean, Dr. Silverio Ramon DC. Salunson, who will be serving as one of the mentors. Joining him are Dr. Jerome D. Soriano, Ms. Maribel C. Ramales, and Ms. Kimberly M. Pascasio who will all be leading lectures in their respective expertise. Meanwhile, Ms. Bianka Ara O. Sunga and Ms. Charmaine Lace O. Pascua will be moderating the event. Six (6) CBM students were selected to represent TAU and are expected to present their business proposal on the last day of the event.
Dr. Aulia Luqman Aziz, event coordinator, shared that the activity was initially steered under the auspices of UB's International Relations Office. "We got a mandate from the university to increase the number of inbound students," Dr. Aziz stated as the reason for the establishment of the program.
"As for the theme, we thought of a topic related to business or startup that would attract the attention of the young generation or students across nations. So we gathered our experts in business administration and invited the ones from your side as well," Dr. Aziz continued as he later expressed his university's willingness to forge a long-term partnership with TAU.
For his part, Dr. Silverio Ramon DC. Salunson, CBM Dean, said that the internationalization of higher education is inevitable. "The future of cross border academic mobility is boundless. CBM supports the IZN endeavors of TAU and UB and vows to initiate more collaborative programs."
UB in Malang City, East Java is one of Asia's most reputable higher education institutions according to both QS and Times Higher Education. It regularly hosts a number of TAU students and academics and facilitates international events with TAU including the inaugural International Visiting Scholar (iVISID) in 2022.
#TAUGlobal #UniversitasBrawijaya #CBM #FAS #Indonesia #Startup