TAU undergoes CHED-CBIE internationalization mentoring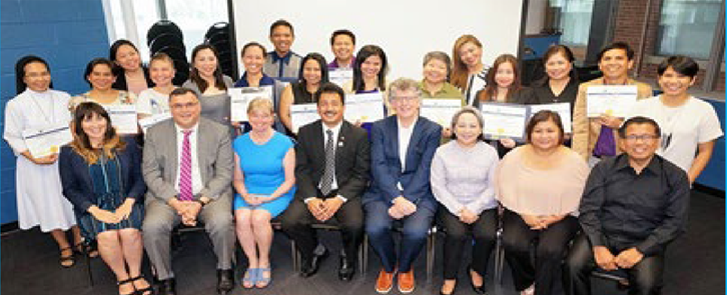 The Tarlac Agricultural University (TAU), represented by Dr. Christine N. Ferrer, Director for External Linkages and International Affairs, has been privileged to be part of the 15 selected public and private higher education institutions (HEIs) in the Philippines which met the institutional and individual criteria for the capacity building initiative, "The Internationalization of Higher Education in the Philippines: A Strategic Training Program," organized and sponsored by the Commission on Higher Education (CHED) in partnership with the Canadian Bureau of International Education (CBIE).
The seven-month program includes in- Canadatraining (Phase 1), onlineeducation (Phase 2) and in-country training (Phase 3). It endeavors to provide participants with assistance in the development of institutional internationalization strategies and implementation planning including best practices, partnership building, curriculum development, research opportunities and funding mechanisms. Phase I of the program consisted of 27-day in-Canada program curriculum design covering a diverse pedagogical approach based on adult education and experiential learning. Lectures and presentations from well-known internationalization mentors and authors – Professor Hans De Witt (Boston College) and Professor Sonja Knutsun (Memorial University) enhanced the participants' background and widened their perspectives of internationalization through group discussions and assignments, case studies, situational analysis, self-reflections, and review of current policies and practices.
Institutional visits to the following Canadian universities: Carleton University, University of Ottawa,   and   Alqonquin College in   Ottawa;   Concordia   University and McGill University in Quebec; Ryerson University,   McMaster   University, Centennia College, Seneca College, York University and University of Guelph in Toronto, provided the participants with opportunities to benchmark on internationalization practices of these universities whose internationalization practitioners unselfishly shared their experiences on partnership development, mobility programs and educational innovations which activated their visibility and recognition. These universities also opened their doors to the participating HEIs for partnership development.
The in-Canada training, which ran from June 24 to July 20, 2017, culminated with the presentation of Strategic Internationalization Plan to the lecturers and CHED Officials (Dr. Prospero De Vera, Commissioner; Atty. Lily Freida Milla, Director for International Affairs and Dr. Luisa Valencia, Director for Finance/ Higher Education Development Fund).
Dr. Ferrer presented the TAU-SIP that advances three (3) internationalization dimensions to capitalize (1) Internationalization Engagement to enhance TAU's international reputation and visibility, (2) Learning and Discovery by building exceptional cross-border mobility opportunities for faculty, staff and students and (3) Innovation, Collaboration and Resource Generation to strengthen institutional development and maximize investment on university internationalization initiatives. These dimensions are translated into key results areas such as: Dimension 1 (Articulated Institutional Commitment, International Relations & Reputation, International Visibility, Cultural Intelligence & Internationalization Awareness/ Diversity, Quality Assurance, Organizational Strategies & Policy Development); Dimension 2 (International Experience for Students and Staff), Digital and Global Citizenship, Internationalized and Industry-based Curriculum, Non- conventional Instructional Delivery) and Dimension 3 (Stakeholder Engagement, SpecialPrograms and Projects, External Resource Generation).
The delegation also had a courtesy meeting with the Embassy of the Philippines in Canada. They were accommodated by Ambassador Petronila Garcia and other envoys.
At the end of the seven-month training, institutional representatives have to deliver the following requirements: (1) full-blown institutional internationalization strategic plan, (2) identification of one internationalization priority, (3) operational planning for the internationalization priority, (4) initiation of relationships with Canadian institutions including a mentorship component, (5) enhanced capacity of the HEI to implement internationalization activities through a train-the- trainer approach.
Other participating HEIs are: Caraga State University, Capitol University, Cavite State University, Cebu Technological University, Central Bicol State University of Agriculture, Central Mindanao University, Centro Escolar University, Far Eastern University, Holy Angel University, Lyceum of the Philippines– Batangas, Mapua University, St. Paul University Philippines, Technological Institute of the Philippines, and University of the Immaculate Conception. More       importantly,           TAU        formed stronger alliance with the other five (5) SUCs included in the internationalization program. Based on the initial plans, the SUC Agricultural Alliance will converge to advance research collaboration, mobility programs and educational innovations in coordination with the concerned offices of the Commission on Higher Education. Following   the   one-month   out-of-the-country internationalization exposure and training in Canada, the participants also had in- country sessions hosted by the University of the Immaculate Conception (UIC), Davao City in September 2017; Far Eastern University (FEU), Manila in October 2017; and Capitol University (CU), Cagayan De Oro City in November 2017.
Cebu Technological University (CTU) hosted the culminating ceremony of the seven-month training which was concurrently held with the Building a Global Campus: Internationalization of Philippine Higher Education Forum on January 31 to February 1, 2018 at Bayfront Hotel, Cebu City. (CNFerrer)