Representing agricultural SUCs
TAU president joins Philippine delegation in the 9th Philippine-Israel Joint Commission Meeting 
Sustaining 60 years of diplomatic relations, Israel and the Philippines validate their progressive alliance trussed by 14 bilateral agreements along political, economic, educational, scientific and technological cooperation.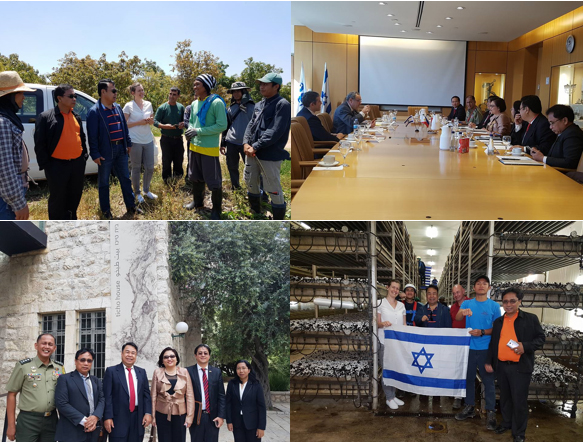 With TAU as the national coordinating SUC of the Agrostudies Student Internship in Israel which has been running for 11 years, Dr. Max P. Guillermo, University President, joined the Philippine Delegation as SUC representative for the 9th Philippines-Israel Joint Commission Meeting held on May 4, 2017 in Jerusalem, Israel. The delegation was headed by Department of Foreign Affairs Assistant Secretary Hjayceelyn M. Quintana. Dr. Ronald L. Adamat, CHED Commissioner and Chair of the TAU Board of Regents also joined the mission.
The Philippine Delegation had a courtesy meeting with the following Philippine envoy based in Israel: Ambassador Nathaniel G. Imperial, Consul General Pamela F. Durian-Bailon, Labor Attaché' Rodolfo G. Gabasan, and Defense Attaché Col. Raul P. Villanueva.
As a significant component of the visit to Israel, they toured some agricultural farms to monitor the conditions of the Filipino interns dispersed in various farms, locally known as 'kibbutz' in Israel such as: Kibbutz Maagan Michael, a world class fish breeding center where they were briefed on kibbutz life and activities; Kibbutz Hama'apil, a dairy and organic farm; Yanay Nursery Ltd., a hogla village and Mutshin Citrus and Avocado Nursery, an Ein Vered village. They also explored the Agrostudies Training Center in Ruppin.
The Joint Commission Meeting yielded productive discussions and strategic interventions for development, with emphasis on Philippine-Israel Partnership in Agriculture Education in which TAU has taken initial strides into developing its platform for agricultural innovation and the future establishment of a techno-demo farm to showcase Israel's agricultural technology