TAU lays groundwork for international assessment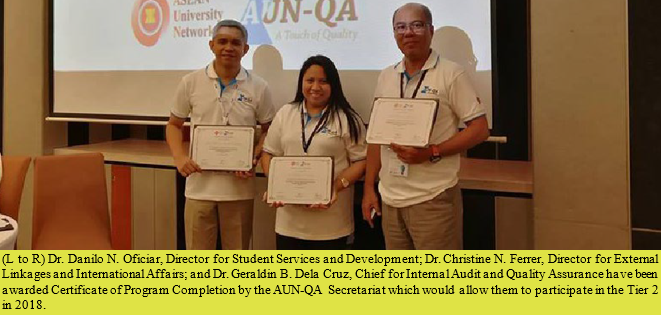 Resolute in fulfilling its vision to gain international   reputation   as   one   of   the top 500 agricultural universities in Asia, Tarlac Agricultural University (TAU) had an initial take-off for its bid toward international assessment and recognition through the ASEAN University Network (AUN).
With the growing trend of higher education system towards internationalization, coupled with the increasing demand from universities in the ASEAN region to raise their program's recognition and quality improvement leading to the elevation of the importance of developing a robust QA system in HEIs, the University fielded in three (3) university officials to undergo AUN-Quality Assurance Training Course for Accomplishing Program Assessment (Tier 1) on December 12-15, 2017 held at Pathumwan Princess Hotel, Bangkok, Thailand.
To   strengthen   QA   development and enhance technical skills in writing Self- Assessment Report among the trainees, Mr. Johnson Ong Chee Bin, AUN-QA Expert and Dr. Arnulfo Azcarraga, De La Salle University Professor, coached the participants on the following areas: AUN-QA Framework, PDCA Approach to Self-Assessment at the Program Level, AUN-QA Criteria (1-11), Change Management, AUN-QA Assessment Process and AUN QA Web-based System.
Participation in the Tier 1 program would qualify TAU to apply for institutional affiliation (Associate Member) of the AUN. The trainees sent by TAU would also need to undergo Tier 2 as a requirement in forwarding application for program assessment and would qualify them to become ASEAN-QA (international) assessors.
The event also served as a networking meeting among the participating universities from Brunei, Indonesia, Philippines, Thailand and Vietnam for faculty and student exchange, as well as information exchange on quality assurance and internationalization.
TAU's participation in this activity is strategically aligned with the goal of establishing international reputation, through visibility and recognition. (CNFerrer TAU-ELIA)