Among the best in Asia-Pacific region
TAU Gains Nod of Indonesian HEI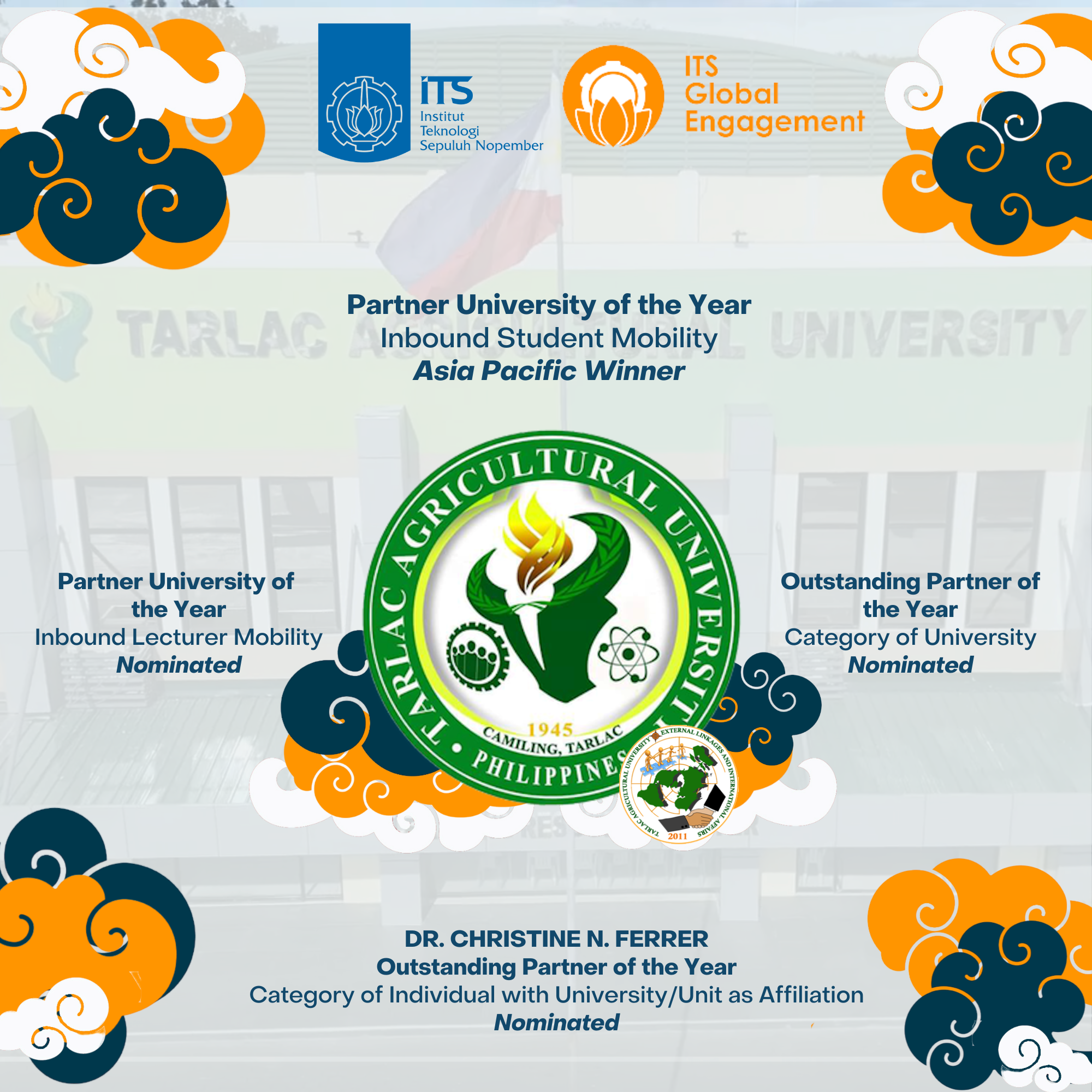 Cited for its "outstanding contribution, especially in student mobility," Tarlac Agricultural University (TAU) has been commended by Institut Teknologi Sepuluh Nopember (ITS) during its International Partnership Day (IPD) on 7 February.
Vying against Tianjin University (China) and Surigao del Sur State University (Philippines), TAU was recognized as the Partner University of the Year for Inbound Student Mobility. This is due to the active participation of TAU students and faculty in a number of ITS-led signature programs such as CommTECH, e-internships, and UMAP-supported activities.
Dr. Christine N. Ferrer, Director of External Linkages and International Affairs (ELIA), was invited to receive the award on behalf of the university.. "As a small yet excellence-driven institution, TAU has so far achieved most of its goals especially on internationalization and mobility," Dr. Ferrer said.
TAU was also nominated for the prestigious Outstanding Partner of the Year but the award was conferred to Shibaura Institute of Technology (SIT) of Japan. The Inbound Lecturer Mobility of TAU was also declared as a finalist alongside Universiti Kuala Lumpur of Malaysia and SIT.
Meanwhile, Dr. Ferrer and internationalization (IZN) advocates from Asia University (Taiwan), Universiti Malaysia Perlis, and Universiti Malaysia Pahang were acknowledged as nominees for Outstanding Partner of the Year individual category.
Elated for the recognition given to the university, Mr. Abner P. Mañebog Jr., ELIA's technical staff for mobility, urges TAUinians to participate in the IZN programs offered by ITS and other TAU partners. "We will assist and guide you in every step of the way," Mr. Mañebog shared.
Furthermore, this year's IPD raised the theme: "Greater Impact through Stronger Collaboration." ITS, a higher education institution (HEI) in Surabaya,  is Indonesia's leading science and technology university often ranked as one of the most innovative and sustainable HEIs in Asia.
By Mr. Jerome L. Duque and Mr. June Adel S. Guerrero (TAU-ELIA)