TAU celebrates 1st University Charter Day Anniversary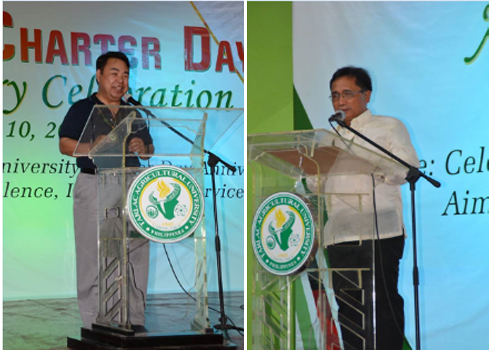 A year after the enactment of Republic Act 10800, An Act Converting the Tarlac College of Agriculture in the Municipality of Camiling in the Province of Tarlac into a State University to be known as the Tarlac Agricultural University (TAU), the TAU community is  overjoyed in celebration of its first University Charter Day Anniversary on May 10, 2017. 
               With the theme "Celebrating TAU's 1st University Charter Day Anniversary: Aiming Higher for Excellence, Integrity and Service," programs such as Thanksgiving Mass, Clean Up Drive and University Fiesta, Thanksgiving Program and Fellowship Night were lined-up to commemorate and acknowledge the efforts given by the TAU community and stakeholders in its ambition to become a university.
                Along with this, cooperating agencies and community partners of the university were awarded plaques and certificates for their support and assistance in the academic and institutional endeavors of the University. Senator Paolo Benigno "Bam" A. Aquino IV, Former Congressman Roman T. Romulo, Dr. Ruperto S. Sangalang and Mr. Mark Jayson Megriňo, outgoing members of the TAU Board of Regents formerly known as TCA Board of Trustees, were also given Plaques of Appreciation in recognition of their invaluable contributions in the development of TAU.
            The program was graced by Dr. Ronald Adamat, CHED Commissioner and Chairman of the TAU Board of Regents, who gave his congratulatory message. Commissioner Adamat commended TAU for its breakthrough initiatives such as the proposal on the Model Techno Demo Farms that will showcase the knowledge and skills of its OJTs in Israel which is the biggest group from the Philippines. Furthermore, he praised the leadership of the University President for gathering the local officials and other leaders from government agencies who have always been supportive in the advancement of TAU.
Meanwhile, in his first State of the University Address (SUA), Dr. Max P. Guillermo reminisced the humble beginnings, challenges and efforts that have been served in the realization of the conversion of the college into a university and highlighted the significant accomplishments of the University for the past year.
Dr. Guillermo presented in his first SUA the significant developments of TAU which confirms the realization of the specific, measurable and realistic goals set by the stakeholders comprised by the four (4) key result areas namely Quality and Relevance of Instruction, Research Capability and Output, Relations with the Community and Management of Resources.
In his final remarks, Dr. Guillermo encouraged the TAU community to continue the burning passion to take TAU to greater heights and work harder to the realization of its vision – to become one of the top 500 agricultural universities in Asia.  With the help and continuous collaborative efforts of all its stakeholders, TAU shall carry on its aspiration to AIM HIGHER.
(LLSMacayana, Office of Internal Audit and Quality Assurance, May 2017)