Ranking 601-800 globally for 3 consecutive years
      TAU remains one of Ph's top sustainable universities
Article by Mr. Jerome L. Duque (External Linkages and International Affairs)
Poster by Mr. John Paul Q. Gordovin (External Linkages and International Affairs)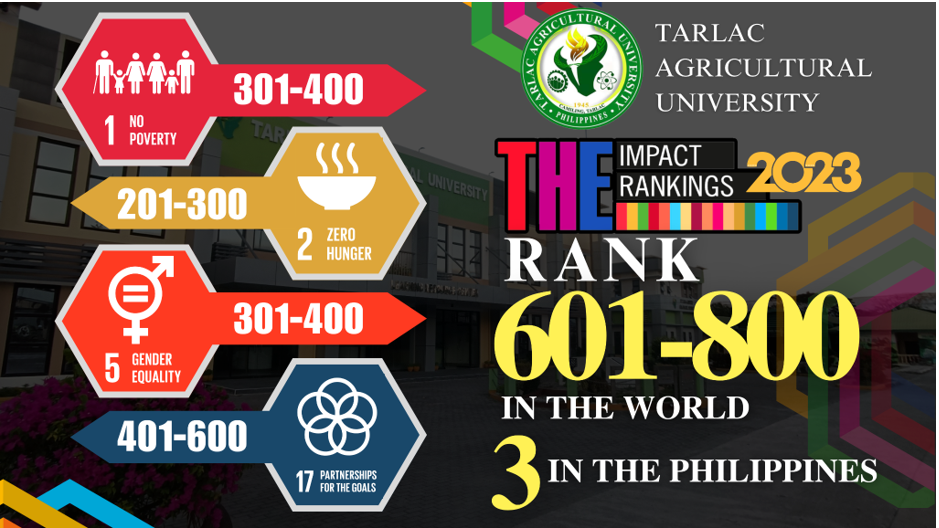 Despite a significant increase in the number of participating Higher Education Institutions (HEIs) in the 2023 edition of Times Higher Education (THE) Impact Rankings, TAU managed to secure its 601-800 rank which it has been holding since its debut in 2021.
From a list of 29 Philippine HEIs, TAU stayed at 3rd place on par with University of Santo Tomas (UST), Mariano Marcos State University (MMSU), Batangas State University (BatSU), and Leyte Normal University (LNU). TAU is also the leading PHEI in Central Luzon.
Owing to a 24-percent jump in the overall points for SDG 17: Partnership for the Goals, TAU maintained its collective performance and entered the 401-600 mark among 1,625 HEIs in the said category. SDG 17 accounts for the highest share and focuses on HEIs collaboration with other academic institutions, the government sector, and non-government organizations in addressing Sustainable Development Goals (SDGs) through volunteering initiatives, research endeavors, and functional partnerships across the 17 SDGs. Domestically, TAU is in second place in SDG 17.
Meanwhile, SDG 2: Zero Hunger and SDG 5: Gender Equality, are still TAU's perennial strengths along with SDG 17. TAU continued to fare better as it joined the 201-300 and 301-400 brackets in food sustainability and gender development, respectively. TAU is the number 1 PHEI under SDG 2 and number 3 in SDG 5.
TAU's SDG 1: No Poverty strategy outcomes proved to be effective as its anti-poverty programs like livelihood training and financial aid enabled TAU to cross into the uppermost segment by making it to the top 301-400 internationally and third locally.
Another remarkable improvement is on SDG 10: Reduced Inequalities where TAU recorded double-digit growth. Such metric places emphasis on universities' protocols regarding prejudice, social disparities, and marginalized demographics. TAU achieved the highest rank among PHEIs in this area.
Also, in SDG 13: Climate Action, one of the most critical gauges of sustainability index, TAU has broken into the 401-600 threshold in the world and third in the country tier after notching up by 12 points.
Under research productivity, SDG 17, SDG 5, and SDG 3: Good Health and Well-Being logged the highest points with SDG 1 and SDG 14: Life Below Water not far behind.
To guarantee the pursuit for excellence and benchmark its performance against the world's leading tertiary academic institutions, TAU has consistently submitted entries in all 17 SDGs. This decision manifests TAU's commitment to contributing to global efforts in initiating and tracking progress in resolving contemporary social, economic, and environmental challenges.
Introduced in 2019, THE Impact Rankings are global tables that evaluate HEIs based on indicators that offer a comprehensive and equitable assessment across research, sustainability practices, community engagement, and education.
#TAUGlobal #THEImpactRankings2023 #UNSDGs