Looking-Back and Thanksgiving
TAU marks 7th year as full-fledged university
Text by Mr. Jerome L. Duque [External Linkages and International Affairs]
Photos by Mr. John Paul Q. Gordovin [External Linkages and International Affairs]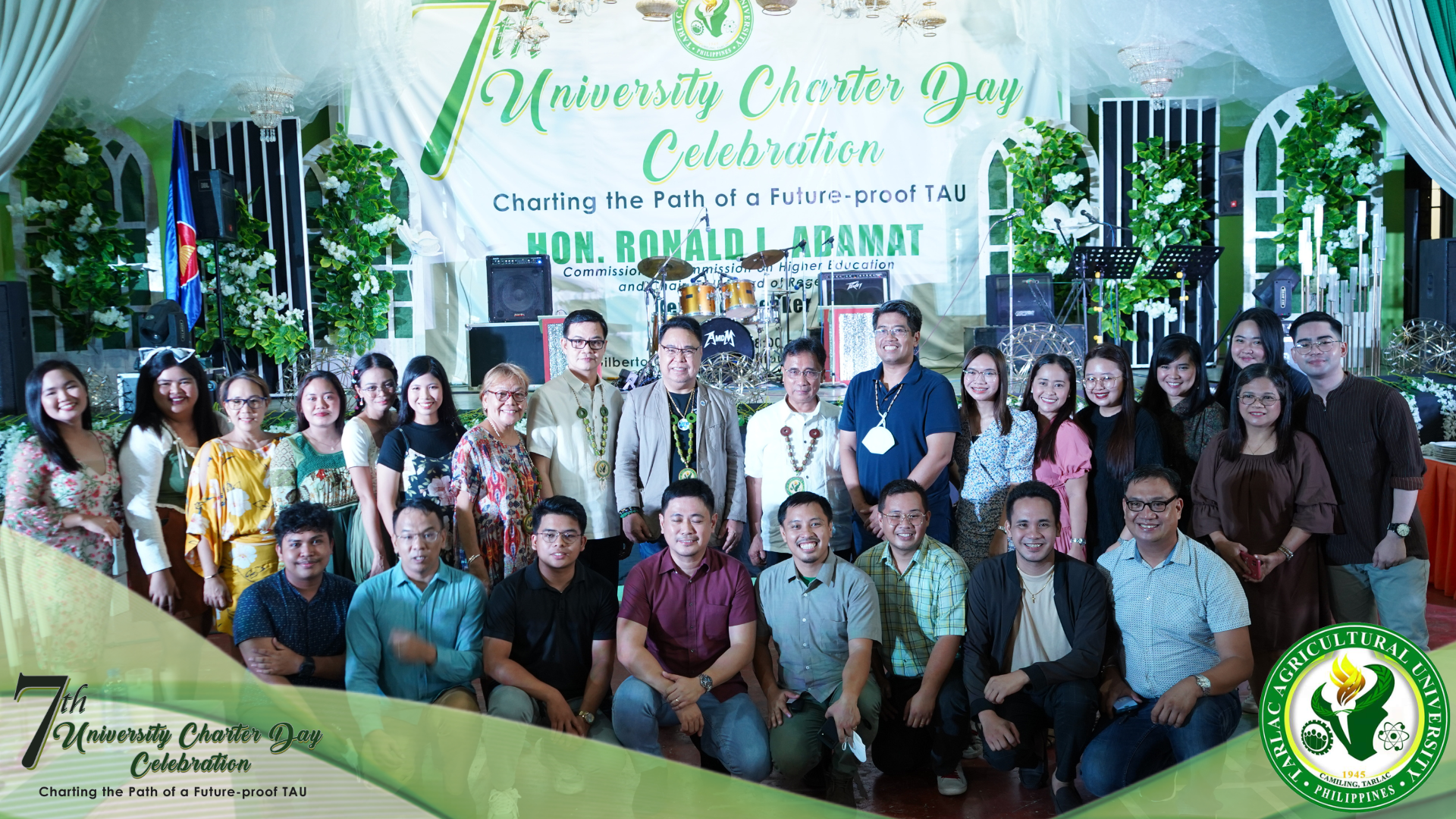 Come rain, extreme heat, and power interruption, nothing can stop the celebration of Tarlac Agricultural University's (TAU) seventh year as a premiere university.
Steered under the theme "Charting a Future-Proof TAU," the one-day affair highlighted the convocation program held at Gilberto O. Teodoro Multi-Purpose Center in the afternoon of 10 May.
In his welcome remarks, Dr. Noel J. Petero, Vice President for Finance and Administration, underscored the role of forward thinking in the achievement of TAU's vision in the last seven years and for the "continuing improvement of [the] university towards the path of a future-proof TAU."
Leaders from different higher education institutions (HEIs) from the Philippines, Indonesia, Bangladesh and Myanmar also extended their greetings and wishes for the TAU community.
Serving as the keynote speaker, Dr. Ronald L. Adamat, Commissioner of Commission on Higher Education (CHED) and Chairman of TAU's Board of Regents (BOR), commended the university for placing in domestic and global rankings. Dr. Adamat also advised TAU leaders to "commit to more innovations and changes", make the management more relevant, and "develop a roadmap that creates opportunities."
Furthermore, Dr. Adamat urged the teaching force to embody the essence of technology and value formation in the future of education. "TAU's image of a future-proof university can only be sustained if it can look back and examine the reason for its being," Dr. Adamat stated.
Citing their valuable contributions to TAU, Dr. Adamat and TAU President, Dr. Max P. Guillermo, together with the four vice presidents recognized the former BOR members, Ms. Gina T. Gacusan and Dr. Leonida S. Calagui.
Focusing on the 2022 milestones, Dr. Guillermo reported TAU's achievements in the previous year like international rankings such as Times Higher Education (THE) Impact Rankings, World Universities with Real Impact (WURI), and UI Green Metric, awards received from both local and foreign partners, student and faculty mobility, and performance in board examinations.
Earlier that day, TAU hosted an ecumenical service, fresh market, peace walk, inauguration of peace monument, and fun games. The convocation was then followed by a fellowship dinner.
#TAUGlobal #FutureProofTAU