East Java HEI boosts collaboration with TAU
Article by Mr. Jerome L. Duque (External Linkages and International Affairs)
Photos by Mr. John Paul Q. Gordovin  (External Linkages and International Affairs)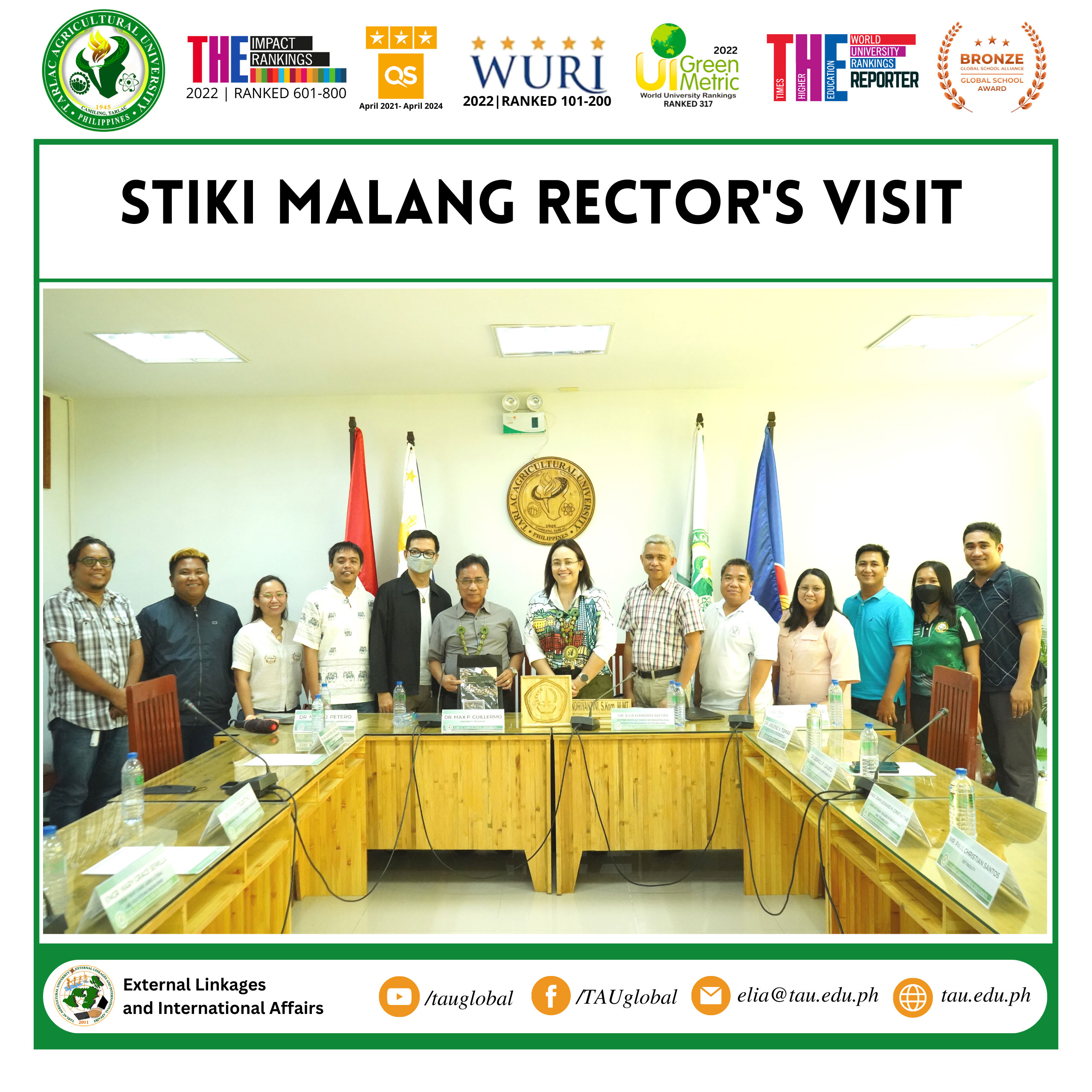 In a bid to strengthen the bilateral relations between Tarlac Agricultural University (TAU) and her college, Dr. Eva Handriyantini, Rector of Sekolah Tinggi Informatika dan Komputer Indonesia (STIKI) Malang, met with TAU officials on 26 May. 
During his message of commitment, Dr. Max P. Guillermo, TAU President, explained the importance of "embarking on a collaborative journey" and "forging new paths in the realm of higher education." Dr. Guillermo also told Dr. Handriyantini about how working together generates synergy that empowers students. "Your presence as an international partner enriches our academic community and opens doors to a world of diverse perspectives, experiences, and expertise." 
Expected to bring in impactful returns to both higher education institutions (HEIs), the proposed collaborations include student exchange where TAU would send three College of Engineering and Technology (CET) students to STIKI Malang next semester. To reciprocate, TAU would accept five students from STIKI Malang. 
To "advance the frontiers of knowledge," Dr. Guillermo explored the possibility of transnational higher education (TNHE) partnership during the consultation. In acknowledgment of Dr. Guillermo's proposal, Dr. Christine N. Ferrer, Director of External Linkages and International Affairs (ELIA), added that TAU could offer dual-logo programs with STIKI Malang. "We can also tap your academics for our COIL (Collaborative Online International Learning) and GNL (Globally-Networked Learning) programs," Dr. Ferrer suggested.
Dr. Handriyantini responded that she is open to such an arrangement and even invited her counterparts to participate in an international conference her college will be hosting. "We are eager to cooperate and collaborate with TAU for educational quality improvement and technology implementation," Dr. Handriyantini declared as she introduced STIKI Malang to TAU representatives. 
After the welcome program, Dr. Handriyantini was escorted by ELIA and CET in a campus tour where she visited the CET building, IT Center, Engineered Bamboo facility, and the SMART Agriculture Center. 
Also honoring the event were Dr. Noel J. Petero, Vice President for Finance and Administration, Dr. Danilo N. Oficiar, Vice President for Students Affairs and Services, Dr. Leonell P. Lijauco, CET Dean, and faculty members from CET and ELIA staff.  
Dr. Handriyantini is on a stretch of tours to several Philippine HEIs. Before coming to TAU, she went to Technological University of the Philippines (TUP) and University of Makati (UMak) for an international congress and a series of meetings. Her final stop will be at the Iloilo Science and Technology University (ISAT U). 
#TAUGlobal #STIKIMalang #Indonesia