Driven by consistent innovation
           TAU is Ph's best in student mobility for 3 consecutive years
Texts by Mr. Jerome L. Duque (External Linkages and International Affairs)
Poster by Mr. John Paul Q. Gordovin (External Linkages and International Affairs)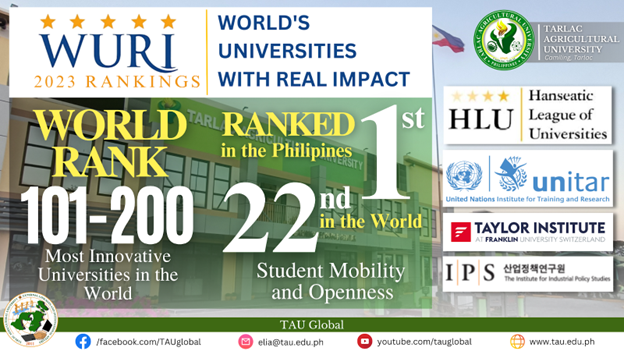 Tarlac Agricultural University (TAU) leapfrogged 10 places in the Student Mobility and Openness category of the 2023 edition of World Universities with Real Impact (WURI) after it lodged in the 22nd place, outperforming all colleges and universities in the Philippines. 
Announced during the Third Annual Conference of the Hanseatic League of Universities (HLU) held at the Florida Gulf Coast University on 18 May, TAU continuously registered year-on-year improvement in international student exchange and mobility from its inaugural 39th rank in 2021 and 32nd in 2022. 
TAU also maintained its 101-200 overall standing among thousands of higher education institutions (HEIs), globally. This is the third year in a row that TAU was recognized as one of the world's most innovative universities. 
The External Linkages and International Affairs (ELIA) submitted three of its signature programs as entries under this division: International SDGs Bootcamp (ISB), Global Goals Cross-Sectoral Dialogues, and the twin social media production venture- Stories of Sustainability (SOS) and Edutourism Journeys (EJourneys). 
ISB is a comprehensive effort aligned with the 2030 Agenda for Sustainable Development. It goes beyond addressing environmental issues through intervention projects, aiming to foster a collaboration among stakeholders to tackle various challenges prevalent in the ASEAN region while Global Goals Cross-Sectoral Dialogues is part of the joint partnerships between the TAU, Cebu-based SEED4Com, and dozens of government agencies, HEIs, and private organizations. The cooperation encompasses academic, research, and other endeavors that contribute to grassroots community development.
Finally, SOS and EJourneys are effective information dissemination and communication platforms that feature sustainability challenges. They seek to share information, which might not be readily accessible to the general public, via popular social media platforms.
More and more Philippine HEIs are joining WURI. This year, 51 PHEIs qualified in the said international rankings organized by HLU.  
#TAUGlobal #WURI2023 #StudentMobilityandOpenness #MostInnovativeUniversities