Six interns receive int'l distinction
Agrostudies invites TAU president in 2016 graduation rites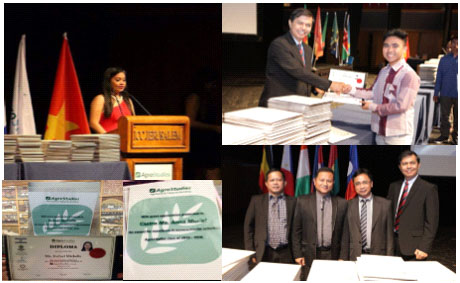 TAU President Dr. Max P. Guillermo joined the Philippine delegation invited by AgroStudies to take part in the Graduation Rites of the 11th batch of Filipino students deployed for international internship in Israel.
With Dr. Guillermo were CHED Commissioner Dr. Ruperto S. Sangalang, Dr. Rosalito A. Quirino of the University of Science and Technology in Southern Philippines, Dr. Rubi Hechanova of Sultan Kudarat State University and Dr. Gregorio Rodis of Bataan Peninsula State University.
Among the more than 1,400 graduates from 13 countries, six (6) students from TAU received awards. They were Anna Muriel Castro and Michelle Rafael (Excellence Award) and Janel Marc Matias (Animal Production), Ken Joshua Agustin, Kenneth Santos, Francis Lucido and Wilfredo Navida (Crop Production).
Ms. Michelle Rafael has been chosen to deliver a speech in behalf of the graduates during the Agrostudies Graduation Program held on September 1, 2016 at the Jerusalem International Convention Center. The graduation rites included 524 students from 28 agricultural universities in the Philippines, 71 of which were from TAU.